5 DINING ROOM LEATHER CHAIRS
$499
I have a set of 5 chairs. Add to your collection or change the look of your dining room. Walnut wood legs
These are new in the box - discontinued item
27x40x39h
SKU#-CO101202
4 COUNTER HEIGHT CHAIRS AND MATCHING BENCH
$425
4 Dunham dining room chairs and bench
They are counter height
Chairs measure 41 h
Bench measures 25 h x 40 l x 14 w
These are new in the box - discontinued items
SKU#CO100647
PAIR OF DINING ROOM CHAIRS
$119
Set of 2 dining room chairs
Cushion seats are BLACK LEATHERETTE
NOT white
Brand new in the box - discontinued item
SKU#CO101502

Beautiful Ramona dining room hutch - to ADD to YOUR buffet table
Measures 49x18.5x47
SKU#CO101634H
CROSS OVAL COUNTER HEIGHT TABLE BASE GLASS TOP
$349
Glass top - crossover oval table base
Counter height
NO CHAIRS INCLUDED
Measures 60x42x36
SKU#FOACM3773PT
2 BROWN COUNTER HEIGHT CHAIRS
$199
2 brown counter height chairs.
Floor models
Price is for the pair
2 MISSION DINING ROOM CHAIRS
$189

2 mission dining room chairs with modern leatherette and straight square legs
New in the box - never used
Price is for the pair
SKU#FOACM3590PC
BEAUTIFUL BUFFET STYLE SERVER
$556
Brand new in the box server. Has 3 drawers, 2 doors and holds 12 bottles of wine. Dark brown.
Measures 52"L 18"W 36"H
Discontinued item
SKU# CO102265
6 COUNTER HEIGHT CHAIRS
$360

6 out of box never used counter height chairs.
SKU # BS CO100649
4 COUNTER HEIGHT CHAIRS
$249
4 Counter height chairs. Out of box - never used
Measures 41.25 H 20.25D 18.5 W
SKU #BS CO102889
ONE COUNTER HEIGHT STOOL
$90
Open box (never used)
One counter height stool.
Black leatherette seat espresso wood
Measures 18"W 22.5"D 38.5"H
Never used
SKU#BS CO130064
3 COUNTER HEIGHT CHAIRS
$225
Open box (never used)
3 counter height black and brown chairs. Brand new out of the box with some wear and tear
SKU#BS CO102199
OVAL COUNTER HEIGHT GLASS TABLE
$399

Oval tempered glass, counter height table
Dark walnut wood
Measures 60"L 42"W 36"H
Brand new never used
SKU# FOACM3774PT
WOOD DINING ROOM TABLE
$75
Eat 6 dining room table.
NO chairs.
Some wear - look at pictures
SKU# none
2 WHITE PARSON CHAIRS
$120
Pair of white rolled back chairs.
Brand new - never used
25 x 18.5 x 39"
SKU#DC4466
4 SILVER/GREY DINING CHAIRS
$199

Sold together! 4 matching dining chairs
Silver/grey with padded seat
Brand new. Never used
19 x 17 x 37.5"H
SKU# DC7058
$109
Pair of white chairs
Brand new never used
25 x 18.5 x 39"
SKU# DC4465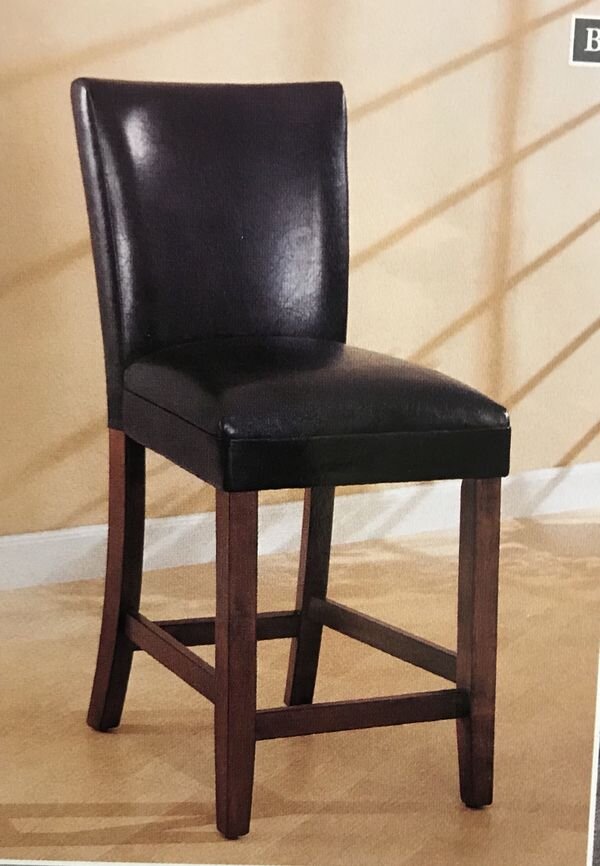 2 BLACK PARSON CHAIRS -COUNTER HEIGHT
$149
2 Black/cherry parson chairs.
Counter height
Brand new - still in the box
30" high
SKU# CO100357
PAIR OF COUNTER HEIGHT CHAIRS
$219
Set of 2 contemporary counter height chairs. Neutral velvet seat cover.
Measures 28x40x19
#SKUFOACM3773PC
GLASS DINING ROOM TABLE AND 4 CHAIRS
$629
Gorgeous ultra modern dining table and 4 matching chairs would look great in any dining room.
Arc-shaped pedestal base is covered in black leatherette. The matching pardon chairs have modern legs and sleek wide flared backs
Table measures 70"l 38"W x 29.5"H
SKU #FOACM3578T 3666BKV
2 BLACK FAUX LEATHER BARSTOOLS
$219
Need some extra seating for the holidays? These 2 barstools are for you.
26 to 32" adjustable barstools, chrome frame, padded seat
Price is for 2
Brand new in the box - never used
SKU#CO100194
RECTANGLE DINING TABLE
$239
Stunning Mediterranean beveled faux marble table sits on a cappuccino pedestal. Has built in shelve to give you more room
Never used- has minor chips from freight damage
Measures 64"W 30"H 38" D
Weighs 99lbs
SKU#CO105841

2 DARK BROWN VINYL DINING ROOM CHAIRS
$139
New (never used)
Need to add chairs to your dining room? 2 vinyl, dark brown dining room chairs.
NO TABLE INCLUDED
Measures 23.5"L 19"W 38"H
Brand new in the box. Never used!
SKU #CO103053
Mid century replica table.
NO CHAIRS
measures 63"L 30.2"W
Brand new in the box - never used
SKU#CO105741
LARGE RECTANGLE DINING ROOM TABLE
$539

Trying to figure out how to have the whole family for Turkey Day? This cappuccino colored table is for you. It has a pull out extension leaf to seat 8 comfortably.
NO CHAIRS INCLUDED
Brand new in the box - never used
Measures 71-86.5"L 39.25"W 30.75H
SKU# CO103101
ELEGANT DINING ROOM TABLE & 4 CHAIRS
$1499
New (never used)
This beautiful double pedestal dining room table has 2 18" leafs to expand to 108"
Perfect for the holidays.
Shown I have 4 fabric side chairs included in the price.
There are 3 other options for chairs to fill in (arm, leather-like or wood)
Table measures 72"L (without leafs) 44"W 30"H
SKU# FOACM3319T
PAIR OF WALNUT GRID PATTERN CHAIRS
$155
Pair of walnut grid pattern chairs
Measures 20"L 22"W 41"H
Brand new in the box- discontinued item
SKU#CO102192
$49
Two black fabric padded seat - chairs
Brand new in the box -discontinued item
40"H
SKU#DC2913
Never used farm house table with solid butcher block top and white legs
NO CHAIRS
Discontinued item
Measures 36"x60"
SKU# DC4160
SOLID WOOD PEDESTAL OVAL TABLE
$255
Solid natural wood and white oval pedestal base, butterfly tile top table with 15" leaf
Measures 43x42x57"
Brand new - never used
NO CHAIRS INCLUDED
SKU# DC4253